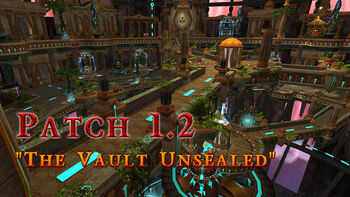 The Vault Unsealed is the name of the 1.2 game patch released on May 29, 2013.
Content additions
Edit
Level cap raised to 32
New suburb: "The Vault"
New Wilderness level: "The Broken Stair"
Elven races now available (Draug, Riven)
PVP Tournament Event
New PVP arena map
Paragon Mode
Warder skill changes:
Spiral Slice: Added a 3 second 20% slow.
Warder's Shout: Changed the knockback to a 1.25 second stun.
Game Changes:
Made a very large amount of balance and stat changes to the game.
Added option to control player rendering in suburbs.
Removed the ability to mail items.
Added a tooltip to display more advanced Energy information.
Changed the special effects and sound effects for Arcanist abilities.
Added a button in the chat bar to broadcast global messages.
Changed the emote icon.
Minimum level for PVP activities is now 11.
Lots of dungeons got another environmental pass, looks way better.
Added starter gift bundle redeemable via a key.
Made Refuge and Heartland Road look a little brighter.
Added a system message broadcast announcing PVP tournament winners.
Added more items to the honor shop.
Added a loading progress bar to the level loading screen.
Added drag-able anchor to the overlay minimap.
Added transparency slider to the overlay minimap.
Changed the Delton Station challenges to all be Boss Raids.
Improved the tutorial levels.
Improved tutorial quest tracking.
Rebalanced crafting material costs.

Fixed these issues:
Energy bars could be used while energy was full.
PVP honor shop GUI errors.
PVP tournaments queuing frequently didn't work properly.
Filtering issues in the Events GUI.
Challenges with a minimum team size of 1 showed the ironman button.
Excessive camera shake in combat.
Player names were visible during the opening cut scene.
The UI sometimes disappearing when equipping a steambike while on a jetpack.
The quest "Manor War" was droppable. Players that accidentally did so can take up the quest again from Jost right outside of the Heartland Road town.
Some items didn't have a confirmation box when opening/using them cost Electrum.
Items could not be salvaged if the inventory was full.
PVP tournament winners didn't get proper rewards
PVP tournaments were not giving correct combat results
PVP tournament rewards didn't have mouse-over tooltips
Level up mails didn't display the correct message.
Tooltip on time-limited items didn't auto refresh when counting minutes.
PVP tournament signup button didn't have the correct feedback when you were eligible to enter.
The minimap scale button sometimes displayed the wrong information.
Some dungeons had incorrect names.
It was possible to get stuck in certain doorways.
Flags glitching out if anti-aliasing was disabled.
The market place had search issues and useless item quality filters.

Others:
Optimized level loading process to make it less likely to be stuck in the loading screen.
Added decorations to Delton, Delton Station and Heartland Road areas.
Removed useless challenge rewards.
Obsolete Mod Blanks now become a gift bundle that gives players a new Mod Blank.
Improved target switching when pressing the "tab" key.

What did not get in this patch:
VIP System
Siege of the Spire event
(Both slated for 1.3)